So after a bit of a rocky schedule last month, it's time to revive this column and try out a new name. Here you'll find a grab bag of news for craft beer (including homebrew) brewed in and distributed to Indiana, beer events, and the occasional oddity that I hope you'll find interesting and/or amusing. A quick look at July festivals reveals that VIP tickets for the July 14th Indiana Microbrewer's Festival have sold out early again. You can still purchase general admission tickets ($40) that get you a mere four hours of all the beer sampling your heart desires, or designated driver tickets here. If you were thinking about checking out the 15th annual Michigan Brewers Guild Summer Festival, it appears that online tickets for Saturday's session are sold out. You can still get tickets for Friday night (July 27th) here for $30.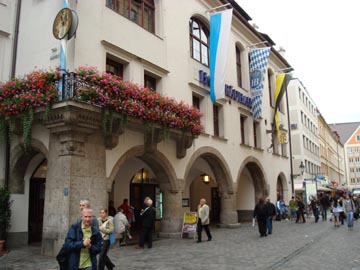 If you're dreaming of getting a little further away for the beer experience of a lifetime, Ron Smith's Guided Beer Vacations are back on for 2013. The first trip will take you to Germany from July 12th – July 21st with stops in Munich, Bavaria, and Bamberg. The second option takes you to Belgium from September 1st – 10th with stops in Brussels, Brugge, and Antwerp. You can find more information on Ron's Beer MBA website and sign up for the email list to receive all the latest updates. Look for some special collaborative beers from professionals and homebrewers to be available soon. Chris Ingermann's 2011 Brewers' Cup winning Vienna Lager recipe was recently brewed at the Broad Ripple Brewpub. You can see a quick video about Chris' beer courtesy of Great Fermentations here. Andrew Korty's UpCup winning Scottish 70 ale should be brewed at Upland late this month or early next month. Also on the horizon will be Tom Wallbank's winning recipe from the Ram Every Day IPA Challenge to be brewed at the Ram Indianapolis with Head Brewer Andrew Castner. National Homebrew Competition Ninkasi Award winner Mark Schoppe recently told the Brewing Network that he entered 66 beers in the competition with 9 advancing to the final round and 2 earning final round medals. Not sure if news like this makes the American Homebrewers Association ponder setting some type of personal limit (it means that nearly 10% of the beers in one region belonged to one brewer while many others were completely shut out of the competition), but it does show how challenging the competition is even for the best brewers.
Flying Dog Brewery recently lost a lawsuit in Michigan claiming the Michigan Liquor Control Commission violated the brewery's First Amendment right to free expression by denying label approval for Raging Bitch Belgian IPA in 2009. Ironically, the "B" word controversy has since swung full circle back to the state as Alabama approved Raging Bitch but banned Michigan's own Founders Dirty Bastard. And yet Firestone Walker was initially able to get away with this (Google "merkin" sometime) ==>   Let's skim past AB InBev's recent acquisition of Modelo (and your favorite skunky lager in a clear bottle) to acknowledge a situation where their spending spree may have had a positive impact on the craft beer scene. Goose Island President John Hall recently reported that AB InBev's acquisition of the Chicago brewery has enabled their brewers to focus more on innovation. Current plans at Goose Island include purchasing four new 400-barrel "Matilda" fermenters, installing a 750ml bottle packaging line for their Vintage Ales, a new strawberry saison called Gillian, and releasing "more than twice as much" Bourbon County Brand Stout this year. The price to be paid for this freedom is that core beers like 312 Urban Wheat, Honker's Ale, IPA, and Harvest Ale are or may soon be outsourced to A-B's Baldwinsville, New York plant.
Fun fact of the week: According to a new report from the Beer Institute, New Hampshire is the No. 1 beer drinking state in the country based on per capita consumption rate. The top five is rounded out by North Dakota, Montana, South Dakota, and Nevada. Fans of the legendary metal outfit Motorhead can take their hard-rocking lifestyle to the next level with the band's new Bastards Lager. This apparently follows previous releases of Motorhead Shiraz and Motorhead Vodka. Despite the initial macho posturing, the band's website curiously chooses the phrase "gloriously fresh and fruity" to describe the flavor. So yes, you will look a lot tougher than the poor schmuck carrying around an Oberon bottle. Just try not to let down your guard and debate who is experiencing the more gloriously fresh and fruity beverage. Cheers, Nathan